Expired Domains Online Help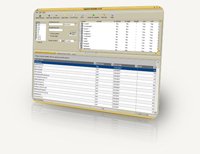 Requirements
Expired Domains will work on any PC computer with Windows NT, Windows 2000, Windows XP and Windows Vista. Although speed of computer is not important for working with program faster computers will search through expired domain names list quicker. Internet connection is required.
Installation
Download Expired Domains setup executable here and save it on your hard drive. Launch ExpiredDomains.exe by double clicking on it. You will be prompted to choose folder where Expired Domains will be installed, you may keep default path and click on next. Keep clicking on next to finish installing. Once the program is installed you can start it from Start Menu - Programs - Expired Domains. Alternatively you can launch Expired Domains from desktop by double clicking on icon.
Expired Domains does NOT install any adware, spyware, malware, badware or whatever else malicious code is called on your computer.
Interface
Here is screenshot of Expired Domains interface: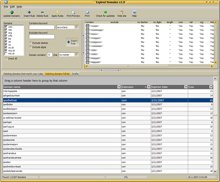 Click on picture to view full size
The main interface is split into two main areas. The upper half of the screen is where you enter keywords you want to search domains for, set rules for those search and view all your keywords and make search sets for them. Bottom half is where you see list of expiring domains that contains your keywords, list of all domains expiring and drafts where you add domains you are interested for further consideration.
Working with program
Here is straightfoward procedure to quickly get it running and start searching for your domains!
In the Set Rules area (upper left corner) set your rules:

Domains - check only boxes for domain extensions you are interested in (ie check com and net if you want to search only for expiring .com and .net domains.

Contains Keyword - type in a keyword that should be part of domain. Spaces are not allowed since domain name can not contain spaces. For instance, if you are interested to find expiring domains about web design start with the basic one "webdesign". Next to it is pull down menu where you can choose whether you explicitly want your keyword to be at start or end of domain name. Latter you will can add more rules including variations like webcreation, webpublishing, cssdesign etc etc.. This is very generic example but it applys to all keyword searches.

Excludes Keyword - put here keyword that you don't want your domain name to consist. On a "webdesign" example for instance you could put keyword "free" so a domain freewebdesign.com would be excluded from search result.

Exclude Dashes/Exclude Digits - Tick this boxes if you want domain name not to contains dashes and/or diggits.

Domain Contains - Specify how manu words you want your domain to consist of. You can specity exact number, "no more than" rule, or leave it at default "no matter" setting which will include every domain name, no matter how long is it.

Insert Rule - Once you set rules for a particular keyword press INSERT RULE button. The keyword will show up on the right listing.


Follow this procedure for as many keywords you want to include in your search, then press UPDATE DOMAINS button at the toolbar or using main menu File - Update Domains. The program will download list of expiring domains and automaticaly apply your rules. Since the list often consist of more than 100.000 expiring domains the process of applying rules can take some time. You will see domains are being listed at the second half of screen. At any time you can add more keywords and press APPLY RULES. When you press Aplly Rules the actual list of expiring domains is not downloaded, only the rules are processed again.

Working With Sets
If you are interested into more than one category or group of keywords filtering search results can become clogged with too meny results from different categories. For instance, you want to search for mentioned "webdesign" variations, than you want to search for all town names in your area, than for longer list of medicine drugs. The final result would consist of words from all thre categories, making it hard to find expired domains just for one category. Therefore we have put DOMAIN SETS functionality. With Domain sets you can put groups of keywords into sets and than apply rules for a particular set only. This is a lifesaver if you have many thematic groups of keywords to search for.

To work with domain sets you should have your keywords already defined, along with rules. Than, in keyword listing (upper right) check only boxes for the set you want to make. Than go to File - Save Set, or use right mouse click in the keywords field and choose Save Set. Give a name to a set, than you can proceed making new sets. Then just open the set with File - Open Set and press either Update Domains to download and apply rules to set or Apply Rules to just apply rules to set of keywords. Again, sets are simple but extremly usefull option if you have multiple groups with long lists of keywords to search for.
Expiring Domains List
Bottom half of the screen is dedicated to the list of domains to expire. Here you will see three tabs:

Deleting domains that match your rules - this listing shows the list of expiring domains with your rules applied - ie. only domains that match your keywords, rules and from within current set are shown. Right click in the field brings an option to add domain name to Drafts tab, so when you find interesting name you can quickly add it to drafts for later review.

Deleting domains full list - this is the listing of ALL domains that are expiring in next 5 days. This is very long listing and usually not very usable to go manualy through it since it often consists of more than 100.000 domains. But, if you have lot of free time..

Drafts - This is a listing of domains you added manualy to look for. You would normally want to search for interesting domains at first tab which shows filtered results, then add to drafts only domains that are interesting to you for further consideration. Drafts tab is just a helper to quickly isolate some good domains for later review.
Sorting the domains list
By clicking at the coresponding field you can sort the listings of expiring domains by extension, expiration date, and size (number of letters). But there is more: You can use Custom Filter to filter out a list by your applied rules. To access Custom Filter click on the small triangle besides a name of a field to open an additional options.

Another great way of sorting domains is dragging a column title to the empty field above the domain list. This way, domains will be sorted into groups that you can expand like you expanding folders in Windows Explorer. It is very nice option - try it.
Resources
Commercial Domain Software

Domain Registars

Web Hosting Services